Corporate Training London | Corporate Coaching & Consultancy
Did you know
According to research from the Chartered Management Institute:
Just 1 in 5 UK managers are professionally qualified?
36% of employers say their own managers are not proficient?
Organisations who do not invest in staff development are 250% more likely to fail that those who do?
Formium Development is here to help you avoid these common pitfalls, offering practical and bespoke corporate training to develop leadership knowledge, skills and expertise.
Our corporate training will help you to identify and harness your strengths and the strengths of your staff in order to achieve better results for your organisation. We will assist you in identifying what works best for you, your team and your customers, and give you the management expertise to thrive and succeed in today's competitive markets.
We offer corporate training courses and qualifications for managers throughout their career paths. We support aspiring and new managers, experienced middle managers and strategic leaders either through in-company training sessions, at public scheduled courses or through individual executive coaching.
Research shows that 82% of managers agree that investing in management training helped their company to survive the recession, allowing them to build upon management experience and strengthen their leadership skills.
Formium Development will help you to build your career through our unique strength-driven programmes.
Our courses provide an overview of topics including:
Becoming the leader you aspire to be and identifying your individual strengths
The leader's role to create, engage and inspire
A strength-based approach to developing a strong team and managing performance
Different leadership styles and when to use them – developing your own authentic leadership
In addition to our workshops, as a programme participant, you'll receive:
Diagnostics to identify personal strengths
Two one-to-one coaching sessions on how to apply your own strengths to leadership and management
How to spot strengths in your team members
Support in the application of your knowledge to management practice
For more information about our corporate training in London, don't hesitate to call us on 020 7416 6648 or get in touch online.
Corporate training for leadership development
Our range of leadership and management courses will equip you or your staff with the necessary skills and knowledge required for career development and organisational success. Each of the following topics are available as tailored in-company solutions, delivered over half-day events, day events or a series of short courses.
In addition to structured group events, individual executive coaching series are also available to provide one-to-one development.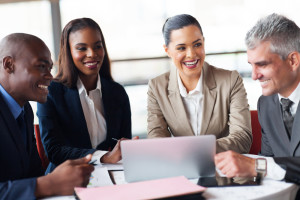 Introduction to positive leadership
Developing your leadership approach
Selecting the right people
Equality, diversity and inclusion
Managing unconscious bias
Managing performance positively / Appraisal skills
Coaching skills for leaders
Building a high performing team
Leading change
Strategic planning skills
Project and programme management
Finance for non-financial managers
Leading excellent customer service teams
Meeting the needs of all your customers, including mental health awareness
Delivering powerful presentations
Train the trainer
Stakeholder engagement
Negotiating for success
I have known Eszter for years and she has been instrumental to my professional development. Not only by following her courses and teaching in both CMI and non-CMI classes, but by having appropriate and targeted advice which guided me through my managerial journey. Eszter is extremely approachable and knowledgeable and never failed to encourage me to push on.
Our clients and their organisations
Charities: Institute of Consulting, Chartered Management Institute, The Stuart Low Trust, SHP - Camden and Islington Aftercare Services
Private Sector: Care UK, Glendale Services, MDM Blinds, Netgear, Skanska, Southern Trains
Local Authorities: The London Boroughs of Islington, Merton and Sutton
Higher Education: UCL, Kings College London, University of London, University of Gloucestershire and University of Debrecen, Hungary