Strength-Based Interview Questions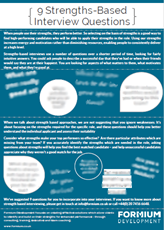 9 Strengths-Based Interview Questions
Any of these 9 questions to your interviews for a better understanding of what energises candidates for high performance.
Making the full move to strength-based selection is a large task that involves extensive research.
You can however start benefiting from the opportunities presented by better understanding applicants' unique strengths by incorporating strength-based questions into your current selection practice.
Get Access To Your Free Copy
Enter your name and email now for your free guide
We value your privacy and would never spam you