British training company Happy Ltd has been rated best for customer service and work/life balance among many other awards. Henry Stewart, Chief Executive, has written a book about the story of Happy and its achievements. The book has a clear tone, comes with real-life examples, provides evidence where required and poses thought-provoking questions – overall an enjoyable read. From the title you can guess you will find a public declaration of the methods, views and motives of the author.
Stewart's Happy Manifesto is based on ten points: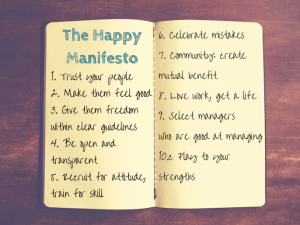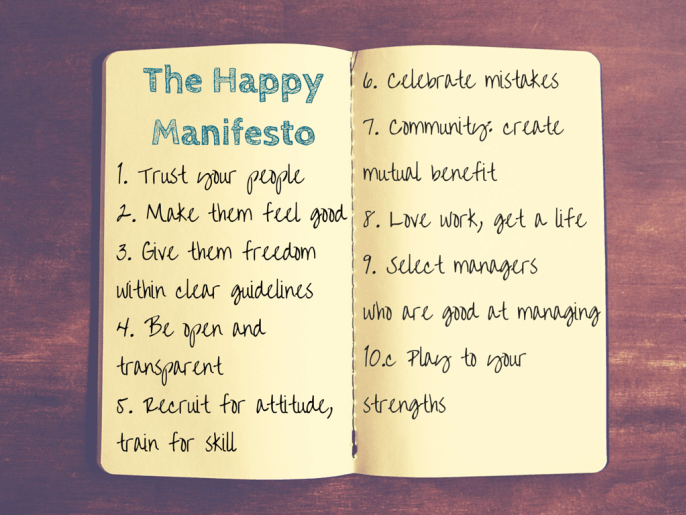 Most of the points are about giving freedom to your people and trusting them. With his book Stewart aims to help the reader put in place the structure that makes freedom and trust possible in his/her organisation.
The Happy Manifesto shows an aspirational alternative, it can help some managers and organisations but it is still not a panacea which will "Make Your Organisation a Great Place to Work – Now!" Don't get me wrong, it is a great book, the idea has potential but I can't see how it could be applied in every case. I find it hard to believe that all employees can work without rules, and in my experience not every manager has the freedom to influence the structure, choose their people and put together a dream-team. If managers don't have the freedom to choose people for their team, or if they inherit an existing team with set preferences and habits, further work will be needed before they can provide the level of freedom suggested.
It is apparent throughout the book that Stewart believes in guidelines rather than rules. He says managers don't give enough freedom to their staff and it could be much more effective if your people made most decisions themselves. Stewart describes the hierarchy of management needs, based on Maslow's well-known pyramid, which highlights workplace safety, comfort, reward and communication as necessary but insufficient for motivation.
Stewart proceeds to expand on organisational approaches to develop challenge, support, trust and freedom as the management behaviours leading to high performance.
Book details:
Henry Stewart: The Happy Manifesto: Make Your Organization a Great Workplace;
Kogan Page; 1 edition (3 Jan. 2013)